LEA & ESTHER BIRRINGER

'Same wavelength,compatible temperament, blind faith -key parameters in chamber music
for rousing interpretations.'
BR-Klassik, 25/01/14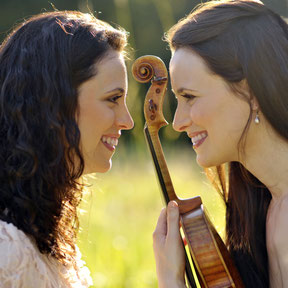 In addition to their solo activities, the sisters also enjoy a close collaboration as a duo.
Lea and Esther Birringer are one of the most promising sibling duos of their generation. In 2011, they achieved a major breakthrough by winning two prestigious international chamber music competitions consecutively, Premio Vittorio Gui and Concorso Internazionale di Musica da Camera Città di Pinerolo. Since then the Duo has received numerous invitations from chamber music festivals and concert series, and has impressed audiences with their stylistic and original interpretations of works from both the standard and modern repertoire.
Lea Birringer has firmly established herself as one of the most celebrated German violinists to emerge internationally in recent years. Described by the NDR as an 'outstanding violinist of the younger generation', she delights audiences with her charm, emotion and virtuosity.

Her sister, pianist Esther Birringer, generates equal enthusiasm among the public with her confident style and playing which is both sensitive and exciting. Musical critics have described her as a 'lyrical poetess of the piano' and her interpretations as 'congenial'.
 
Since their shared international success in major chamber music competitions in 2011, the sisters have also conquered the concert halls as a duo, 'bursting' – in the words of the Bayrischer Rundfunk - 'with the joy of playing music and with their musical energy.'

Following their debut recording from three years ago (Avi-Music), which featured seldom-played repertoire from the 20th century, their new label Rubicon Classics has released their second album 'Lifelines' containing late Romantic works. 'The pair approach them with style and the full-blooded commitment they bring to the entire disc.' (Gramophone)
---
 Here you can find more information about Lea Birringer.